21.11.2012 - 21.11.2012
20 °C
Maximum Altitude: 3,300 m/10,824 ft
Minimum Altitude: 2,680 m/8,790 ft
Distance Travelled: Approx. 12 km
Approximate Walking Time: 6-7 hours / Ascent up: 620 m
Click here for the Inca Trail Photo Album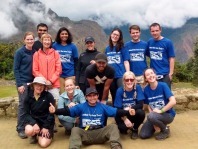 Starting in Cusco, ending at Ayapata
Source: www.sastravelperu.com
The night before the first day of the trek, I didn't sleep much. I stayed up to pack my things, trying to keep it within the 9kg limit that the porters would carry. I'd originally booked for a 6kg limit, but after realizing the sleeping bag and mat rented from the company alone weighed 4kg, I had to increase. There were extra camera batteries to bring, as there would be no electricity along the trek, except for my final night in Aguas Calientes. For the entire Peru trip I had limited what I brought, so there were no temptations to over-pack. This was my first big trekking and camping trip, so the nerves and excitement made it hard to sleep.
The first day of our trek was an early one, with the bus picking us all up around 5am. In the hotel lobby, there was a couple who I remembered from the briefing night who were packing and weighing their packs. They were busy with their pack arranging, and I'm not a sociable morning person, so we hopped straight on the bus without introductions. After about 30 mins of driving and picking up others, we arrived at a small shop where we had breakfast and an opportunity to buy coca leaves (to help with the altitude sickness), beanies/gloves, and other forgotten items. We met our second tour guide, Aldo. It didn't seem like Aldo or Danny were going to do introductions, so we took this first chance to introduce to ourselves. The couple from my hotel were Katrina and Shenny from California. There were 6 Aussie girls -Lauren, Rachana, Shan, Emily, Rebecca and Tamsin. I learnt that they studied at Monash University where I went, and lived in the Eastern suburbs near where I used to live – small world! Angela and Jim were a couple from Colorado who had very calm and chilled personalities that I really enjoyed being around. Nick, from London, who coincidentally worked for the same company as me - super small world. And finally, Sabrina, the Brazilian with a strong and fun personality that I felt matched her current city, New York.
We hopped back on the bus after a very simple brekky, and for about an hour we were on the bumpy and windy road up to the first check-in point - Kilometer 82. We had to show our passports and trekking permits before entering. Here we met our porters who very efficiently took our duffel bags and went off on their way. It was amazing to see how much they could carry! The maximum a porter can carry on the Inca Trail was limited to 20kg. Seeing the porters and the massive packs they carried was jaw-dropping, but to think there used to be no limit and they would carry more, was mind blowing. These tiny men with unstable footwear were definitely inspiring.
During our trek, we heard many stories about the life of a porter. Some saddening - where porters are paid only 40 soles for the whole trek (~ US$10), but they do it because they need the extra income as their farming income is not enough. Some were more heart-warming - where we heard about a porter who was in his sixties but still doing the job because he loved the scenery and the "atmosphere". Or where a porter is paid so well they do it for a few years, save up money to buy a car and become a taxi driver. It reminded me that it is extremely important that when I travel, particularly to developing countries, that I need to do it with ethical companies. Despite the hard work required, whenever porters would pass us on the trail, it would usually be with a nod and a smile. I need to remember them and their attitudes next time I'm struggling on a rough run.
So we began the start of trek – Day 1 is supposedly the "easy" day. After taking the obligatory picture with the sign of the Inca trail, we were off on our way. It was approximately 10am and within an hour it was so hot, most of us shed down to our lowest layer. Who would have thought there would be a day that I would be thankful for zip off cargo pants? Actually, who would have thought I'd ever BUY zip off cargo pants after year 9 camp?!. The slower pace was a great opportunity to talk and get to know others in the group. I chatted to the Aussie girls and learnt about their amazing round the world trips - the rite of passage for Aussie uni graduates. I felt that travel bug inside of me get inspired (and jealous!) by their itineraries.

Llactapata, a.k.a. Terrace Town
Day 1 was hard because most of the group were still adjusting to the altitude. Afterall, this part of the trek was called "acclimatizing" according to SAS Travel. I thought I had adjusted to the altitude pretty well after my three days in Cusco, but I was still getting pretty puffed. How could months of marathon training not help me with a 12km / 7.5 mi walk?! I chose to blame the altitude and heat rather my level of fitness and lack of hiking/trekking training
It's sad to say, but I also took a while to adjust to the simple fact of being outside for so long. It's depressing, but I felt like I was just let back outside after being cooped up in a cage (slash office). It was really nice.
We stopped for lunch and it was the first time (of many) that we were amazed by how luxurious our porters made our dining experience. There was a tent which picnic tables and chairs, and a massive amount of delicious, hot food. They gave us lemonade, which tasted delicious after the hiking, and provided little buckets to wash our hands. How did they carry it all up, set everything up AND cook, all while getting there FASTER than we trekked?! Our minds were blown. I would have been happy with a Vegemite sandwich.

Lunch on Day 1
We were able to set down our day packs (our wonderful porters would keep an eye on them) and began to furiously reapply sunscreen and insect repellant. After lunch, I walked with Nick. I was so caught up talking...well, let's be honest, whinging about work, that it wasn't until we stopped that I realized I was walking at a pace much faster than normal. Probably not the best idea keeping up with a 6ft man on the first day of the trek. Once we got to the campsite, we were all exhausted and just wanted to crash. Thankfully, we were welcomed with "afternoon tea" – hot drinks and popcorn. After 6 hours of hiking, it was the most delicious popcorn I've ever tasted. Aldo and Danny told us that we were a "fast" group, having gotten to the site an hour earlier than planned. We needed to slow down – no one objected to that feedback! We enjoyed a delicious dinner and not long after, we all crashed.

Our first campsite, at Ayapata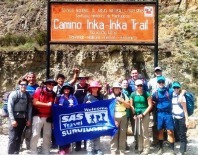 Day 1 completed!
Source: www.sastravelperu.com
Posted by alwaysexploring 17:00 Archived in Peru Tagged hiking trekking machu_picchu camping inca_trail