Getting ready for trekking the Inca Trail to Machu Picchu
18.11.2012 - 20.11.2012
20 °C
My journey from downtown Lima to the airport, to catch my flight to Cusco, made me realize that Peruvians have a different measure of time than I do. In my job, I work with different cultures, so I should have been conscious that a "ten to fifteen minute" wait for the taxi driver could easily mean thirty to forty minutes. Despite this, and the language barrier, my energy of anxious urgency seemed to translate, and my taxi driver pulled through, getting me to the airport with 5 mins before the check-in cut of time. Phew!
I flew LAN Airlines to Cusco. The service and experience was really pleasant; with refreshingly friendly flight attendants, comfy seats and... food and drinks included! It reminded me that I have grown accustomed to grouchy flight attendants, crammed seats and expensive but yucky food commonly found on airlines in the US. The flight was only about an hour, but I wish it were longer so I could soak up the amazing view. The scenery flying into Cusco is magical - the Andes mountains making you feel teeny tiny, reminding you how big the world really is.
In the little car that was my taxi, driving from the little airport to the hotel I got my first impression of Cusco. It seemed to me to be a poor town, very run down and in desperate need of a good clean. But there was an energy to the town and the people that I really enjoyed. Despite being uber touristy, it was bursting full of culture, friendly locals and content-looking dogs allowed to roam free. I am glad I had three nights in Cusco. Not only because I liked the vibe of the town and there's so much to see, but also because my body felt the impact of the altitude. I thankfully took my friend's advice and took altitude tablets so I didn't feel sick, but still I felt very fatigued. I did a couple of day tours – one of the city and nearby areas, and one of the Sacred Valley. I don't have the words to describe it, so I'll let the pictures say the thousand words.

Click here to see more from the album
On the tours, I learnt about the Peruvian culture and the history on how the Spanish conquered the Incas. It was fascinating - particularly coming from the perspective of our Peruvian guide, who seemed to have a bit of a chip on his shoulder about the Spanish invasion. Spain is one of my favourite countries, and it was like I experienced another side of Spain. It amazed me how people could be so disillusioned and cruel on the basis of religion. But more importantly, it made me feel awe in the human spirit and traditional cultures, how they can be so resilient.
A funny situation in Cusco that got me thinking about being a woman travelling alone - I had discussed when paying for my tour that I was fine to share a tent with one of the other single girls. When I found out that I was charged for a single tent, I went to the office to explain that I was incorrectly charged. The original guy I spoke to wasn't there, so I had to explain the situation to someone else. He couldn't understand because he was focused on me being a girl traveling alone. He kept repeating, "You didn't book the trip with your husband or boyfriend, so you are single!" Yes... but that's not what we're talking about here. 15 frustrating minutes later, they understood and agreed to do a refund. I was interested to see how the guides
In Cusco, I started to relax and enter full holiday mode. Being alone and not checking my BlackBerry or Facebook was strange, but also made me feel like I could breathe again. Not having your smartphone to focus on forces you to be open to people and environment around you. One of my favourite parts of travelling is crossing paths with other travellers. I came across a girl and two guys from Japan, who were living in New York. We enjoyed a nice dinner, sampling alpaca and a traditional Peruvian dessert. An inspirational guy from Berlin, who had lived in NY for the past 6 years and currently a nomad in the middle of a monumental road trip. He had started in New York, drove through the States and down through South America. Wow. An American who quit his high power job to travel the world, not knowing what would be after his adventure. I've always had the travel bug, but it had been dormant during my adventure in Chicago. Meeting these people, I felt like it was being awakened again.

Alpaca dinner
On my last night in Cusco, I went to the briefing meeting with my Inca Trail group. Based on a recommendation from a friend, I had booked to do my trek with SAS Travel. I was a bit unsure how well I'd get along with everyone. Although a natural extrovert, I've lived alone for a while and have gotten used to having my own space and down time - I wasn't sure how I felt about spending 5 days straight with strangers. We met our guide, Danny, who seemed a bit of a loose cannon. He didn't do introductions and the briefing was pretty unorganized. But, I needed to remember that I wasn't in the US anymore, and I wasn't at work - not everything needs to be so structured! He explained what to expect over the next 4-5 days - approximately 7 hours of hiking every day (see SAS map below for details on the trek). The highest point we would reach was 4,198 m/13,773 ft. What had I signed up for?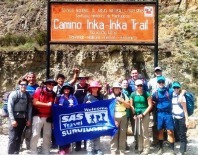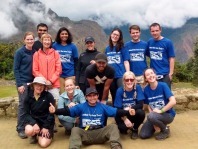 Posted by alwaysexploring 17:00 Archived in Peru Tagged cusco women_travellers inspirational_travellers